Ready to be a part of something bigger than yourself? SPARK is a monthly donation program with 100% of every dollar going directly toward building your community. You're making a difference, every single month!
80 cents a day provides support to your community
Empowering Communities, Building Generations
Become a SPARK member and automatically support Al Rashid's work in Edmonton. What's the best part? Every cent goes directly toward growing and empowering your community.
SPARK allows you to contribute to your community's programs, initiatives, and projects. Together we can unlock the potential of Muslims in Edmonton. And it starts with you.
Where are we investing your money?
Al Rashid offers our community an array of religious and social programs. We pride ourselves with our ability to fund and sponsor different ages in learning Quran and Islamic studies. Religious, social, and athletic youth programs are available for Muslim youth in our Mosque. Seniors are able to call the Mosque their home and use it as a hub for activates that improves their wellbeing. Other programs include Dawa, Interfaith, and tours to fellow Canadian citizens.
Raising a generation of Muslim Canadians was and always has been a priority in our mandate; thus we invested largely in education. This resulted in one of the strongest webs of interconnected Islamic institutions that cater to children from birth to post-secondary education. AREF offers Muslim student's scholarships to encourage and support them in pursuing them their college education.

As the needs are growing, we are setting the vision for sustainable and holistic community growth and development. We are using a comprehensive approach to build people and institutions to ensure the success of the Muslim community in Canada. After building ARCA and Edmonton Islamic Childcare our future large projects include a Grand Mosque, Seniors and Wellness Centre, Family Social Services, and much more.

The Mosque staff and facility offers a place of worship to over 3000 people a week. Quran, Hadith, Dawa, and Arabic lessons are available to wide variety of ages to enable community members to pursue their Islamic studies in a safe and vibrant environment. With over three hundred volunteers, seventy programs geared towards kids, youth, seniors, and everything in between; Al Rashid was shaped into a community hub that many calls a home.
What do you gain when you give?
IT IS SADAQA
When you donate monthly, you are giving a Sadaqa that is impacting your community.
IT BUILDS A COMMUNITY
Becoming a SPARK allows you to join a dedicated group of supporters who understand the importance of building strong Muslim communities in Edmonton.
IT HELPS US SUSTAIN
Monthly benefactions enable us to invest in specific areas of our work, expand our programs and innovate because we know we have the continued support of the SPARK community.
IT'S EMPOWERING
Your donations will uplift and inspire youth to become future leaders in the Muslim community in Edmonton.
Once a SPARK, You'll Receive:
Welcome package outlining the services and programs discounts offered only to you!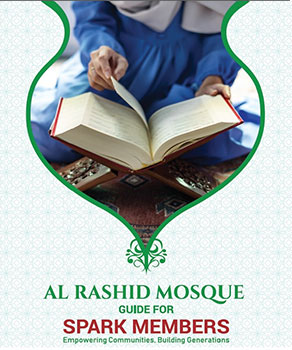 Monthly Email Updates of the impact your contribution is making to the community.
A Surprise end of year event to celebrate our growth and success.
Building a Bright Future Together
Journey with SPARK and help your community flourish and grow. A monthly donation of just $25 will help empower youth, seniors, and everyone in between.