Islamic and Quran Studies
Imam Al Shatibi Quran Institute
The Imam Al Shatibi Quran Institute was established in September of 2011. Imam Al Shatibi is currently one of the biggest Educational programs at the Al Rashid Mosque. The institution was established is being led by Shaikh Ahmad Badawi. Today there are over 700 registered students in part-time learning varying between the ages of 7 and 80.
Mission
Imam Al Shatibi Quran Institute is committed to providing students with excellent Islamic education. The mission is to build a community of Muslims who are well diverse in understanding Islam by not only memorizers Qur'ān, but also by learning Hadith, Arabic and training to achieve perfect recitation.
Vision
An institution developed and designed to bring our community and the young Canadian Born Muslims across Edmonton to learn, understand and memorize Quran perfectly.
The goal of the Qur'ān Academy is to build a community of Muslims who are not only memorizers of the Qur'ān, but also memorizers who have perfected its recitation. The program is accessible to all regardless of age, ability, and previous reading level. All the teachers are specialized and taught Tajweed (articulation rulings on how to read the Quran). For beginners, we do have Bidaya curriculum where we teach our students the qur'anic alphabets and the movements.  Quran Academy also hosts annual Quran Competitions, year-end celebrations, and religious activities.
Days of the program: Saturdays or Sundays
Time: 10:00 AM to 1:00 PM
Ages: 8+ (including adults)
Location: Edmonton Islamic Academy
Duration/Length of the Program: September–May
An-Noor Academy believes in creating a positive environment to nurture and develop the Muslim identities of our students but also to learn how to be part of a multi-faith environment without sacrificing the fundamental beliefs and practices of Islam. An-Noor Academy offers students comprehensive knowledge in Quran, Arabic, and Islamic Studies. The program has four different levels.  The students learn:
How to read the Quran and begin memorizing surahs and correct Quran reading pronunciation with tajweed (articulation rulings).
In Arabic, students will begin learning to read and write Arabic; and advancing to the reading of paragraphs and eventually basic rules of Arabic grammar.
Islamic studies encompass Fiqh (deep understanding of Islam), Aqeedah (religious beliefs and practices), Akhlaq (Islamic manners), and Islamic History.

Fiqh: deals with rulings of wudu, salah, zakat, sawm and hajj.
Aqeedah: is the study of the Islamic beliefs of a Muslim.
Akhlaq: the students will learn duas and learn to follow the Islamic beliefs in all aspects of life.
Days of the program: Saturdays
Time: 10:00 AM to 1:00 PM
Ages: 6-12 years old
Location: Edmonton Islamic Academy
Duration/Length of the Program: September–May
ON HOLD, UNTIL WE HAVE ENOUGH REGISTRATIONS. 
The Hadith Academy offers weekly sessions on the 40-Hadith (records of Islamic traditions or sayings of Prophet Muhammad PBUH). This program is dedicated to teaching the stories and Hadiths of Prophet Mohamed (PBUH) by studying the book "An-Nawawi's Forty Hadith" by Imam Al-Nawawi.
By the end of this program, students will master the 40-Hadith memorization and will receive a certificate for his/her attendance, listening, and memorizations of the 40-Hadiths.
Day of the program: Every Sunday
Duration/Length of the Program: September–May
Time: 2:00 PM – 4:00 PM
Location: Edmonton Islamic Academy, New Expansion building
Ages: 14+
Qualifications: Must speak/read Arabic fluently
Al-Huffath Academy strives to provide a fully-focused Quran memorization environment, with unique learning experiences in academics and Islamic disciplines. Students will complete the memorization of the whole Quran and receive their certification. By completing this program, students will excel in many other fields of study with much success.
Goals
1. Memorization of the entire Quran with proper Tajweed in 2 years
2. Create and empower generations of students who are confident in their Canadian Muslim identity
3. Aim to develop a balanced character and personality, enriched with Islamic knowledge, excellence, and commitment towards themselves and their community
4. Strengthening Muslim identity to meet the modern challenges of our diverse Canadian and global society
Eligibility:
1.    Must be able to read on their own from the Quran
2.    Excelled Tajweed proficiency 
4.    Must have at least 1 Juzu' memorized
5.    Reference letter from the student's current school with proper letterhead
6.    A contract must be signed between teachers, students, and parents in order to commit
to the amount of memorization that must be achieved

(MUST BE ELIGIBLE TO APPLY) 
**There is a probationary period of 3 months for the student to stay or leave
30 mins: Morning Assembly

2 hours: New Memorization

1. 45 hours: Review

30 mins: Islamic Studies

1.15 hour : Breaks (snack , lunch & praying ) 

2 hour: Academic support (optional)

Friday is a short day / No academic
Days: Monday to Friday
Location: Al Rashid Mosque
Grades: Grade 3- Grade 8
Duration: September- August
Fees: 
1st child: $6500.00/12 months
2nd child: $6200.00/12 months
3rd child: $6000.00/12 months
Additional Fees:
School Supplies $50.00 per student/year
Click Here for More Information 
"Important Note: If you are currently attending the Edmonton Islamic Academy (EIA) and you are interested in joining the Huffath Academy. Please note that your spot will not be guaranteed at the EIA, you will have to apply and do the assessment before re-enrolling" 
This is a 9-month course, where students over 16+ years of age are able to enroll in this program to learn Quranic alphabets from the basics. Students will be able to read the Holy Quran properly by the end of the 9-month course.
Information about the program:
Day of the week: Thursday evening (once a week)
Location: Online
Time: 6:00 PM – 8:00 PM
Course Duration: 9 months (September-May)
Fees: $675.00/ Full course
Textbook:$50.00
The program is an after-hours Quran Club for EIA students ONLY not open for the public, to provide assistance for those who want to improve their Quran reading capabilities. This will be held under the Imam Al Shatibi Quran Institute, Al Rashid Mosque.
Time: 3:45 PM – 4:45 PM
Location: Edmonton Islamic Academy,  14525 127 ST, Edmonton, AB T6V 0B3
Venue: Room 176
Grades: 4-12 only
Instructor: Sheikh Nazih Yafi
Schedule:  The program will run from Mondays to Fridays.
Please note: If you have more than one child that you would like to register, they will be attending same day for the Quran Club. Also, Sheikh Nazih will be choosing which day they will be attending In Sha Allah.
Fees:
1 day a week: $25.00
2 days a week: $50.00
3 days a week: $75.00
All payments are paid on a term basis. (Sept-Jan), (Feb-June) 
*No refunds if dropped out
*Please note: You must read Arabic fluently.
Payment Options
$25.00 (Please note that if you are enrolled as a monthly giver with Al Rashid Mosque; this fee is waived)
Bidaya Curriculum $50
Arabic Workbook $25
Juzu' Yassin $20
Islamic Book $10
Two payments
Term 1 (Sept-Dec): $70 X 4 Months= $280/ student
Term 2 (Jan– May): $70 X 5 Months= $350/ student
All payments are paid on a term basis.
***No monthly payments***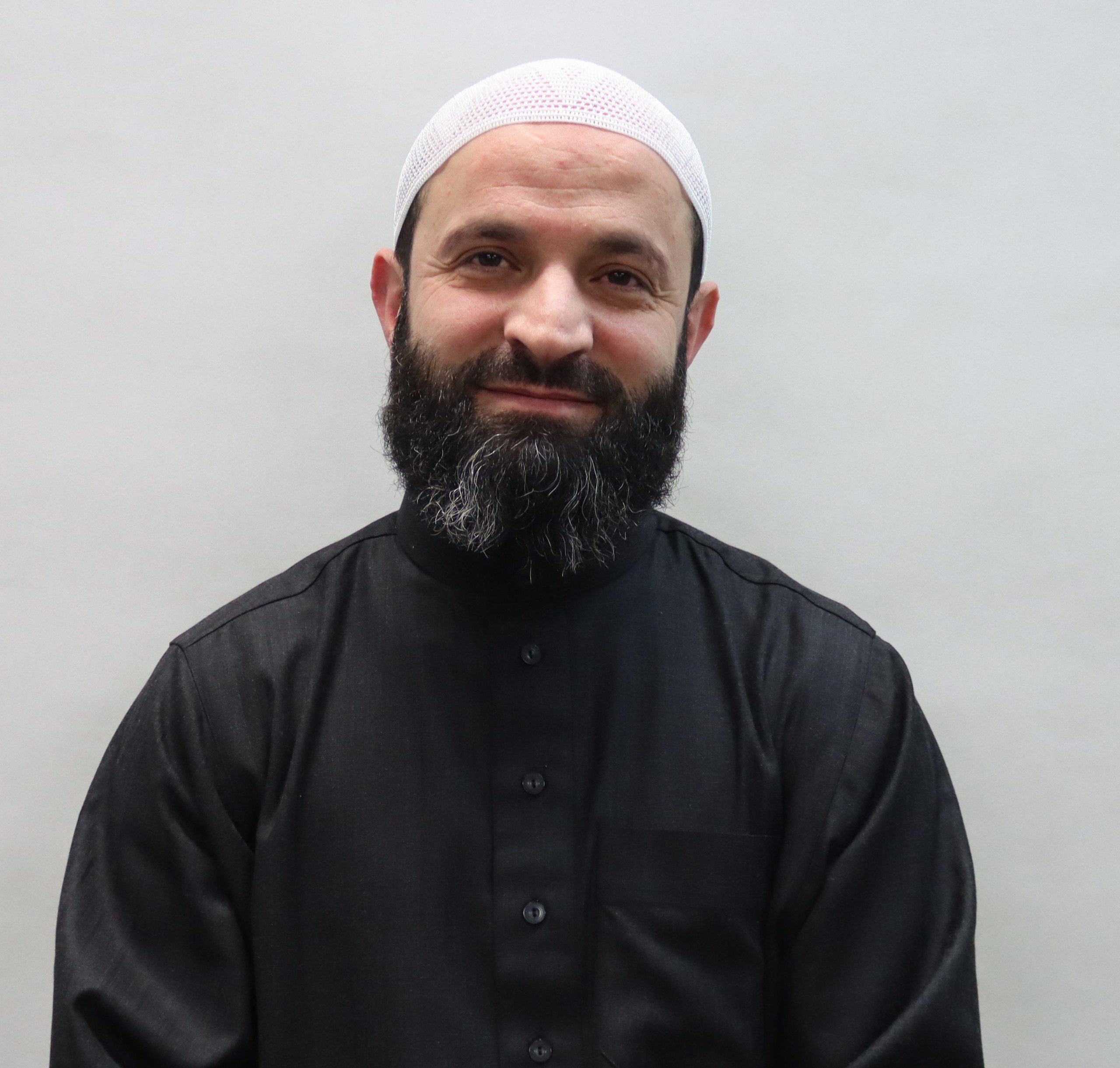 Shaikh Ahmad Badawi
Shaikh Ahmad Badawi started his journey in Islamic studies and memorizing the Quran at the age of 10; he was able to fully memorize the Quran at the age of 12. Shaikh Ahmad continued to pursue his studies in Hadith, Tafseer, and Tajweed which enabled him to land the job of the Imam and Quran teacher of Masjid Al Jadid in Hama, Syria at the age of 20. Since then, Shaikh Ahmad has devoted his life to teaching Muslims the art of recitation and helping them in their journey to memorize the full Quran. He was awarded the SANAD award in 2009. Shaik Ahmad founded Imam Al Shatibi Institute in 2011 and has been the director of this fast-growing Islamic institute since then.